Case Study: Treating Acne with Veritas Bioactives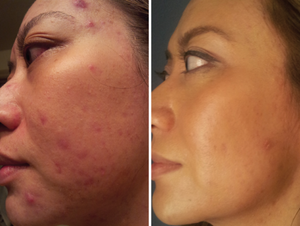 When it comes to finding the right acne treatment, there's no shortage of products on the market promising dramatic results. From washes to exfoliators to spot treatments to magic wands, navigating the maze of options a sometimes overwhelming task.
And acne past the age of 18? Really? Mom always said that the pimples would go away once adulthood set in… But the unfortunate truth is that Mom was wrong (sorry Mom) – acne can impact you whether you're in your 30s, 40s, 50s, or 60s – Pimples truly are equal opportunity when it comes to age.
To make matters worse, adult-level acne can present as more than just the occasional pimple or blackhead. Often times you're dealing with deep, painful pimples – visual maladies that are both unsightly and difficult to erase. 
So what's a person to do?
That was the question that "Patient K" (age 25, Fitzpatrick Type IV) presented to me back in 2012 when Veritas Bioactives was still being hand-labeled in the kitchen of my first skincare boutique, 
Though it may be hard to believe by looking at me now, I'm no stranger to acne – I suffered through it in my early teen years, so I intimately understood Patient K's pain. As a skincare professional, one of the most rewarding experiences I get to have is guiding a patient from acne to clear skin.
I firmly believe in the transformative power of looking your best, and being able to navigate a path from pimples to clear skin is one of the most cathartic aesthetic experiences a person can have.
At the time, Patient K was recently certified as a beautician, with a lot of school loan debt, and little in the way of extra income. Looking good would, of course, be a key component of any job she took in her field, so clearing her skin was a top priority. But, she didn't have the resources for big aesthetic treatments and she was done fooling around with any more product trial and errors. 
Patient K told me how she had tried a few over-the-counter preparations over the years with no significant improvement. Year after year her acne only seemed to get more pronounced, and she made a point of telling me that this was affecting her psychologically. Her self-esteem was at historically low levels as was her confidence. 
During our consult, a comprehensive intake clarified that in addition to the acne, Patient K scored her diet a "3 out of 10" and her sleep as "severely deficient." So I told Patient K that if she could give me a 2-month commitment to eating clean, sleeping well, and adhering to a Veritas Bioactives skincare regimen, I could all but promise her the results she was after. 
Patient K's Veritas Bioactives regimen was as follows:
Morning Routine:
Step 1:
Flawless Sulfate-Free Cleanser
Step 2:
Flawless Brightening Complex
Step 3:
Honour Ultimate SUN Defense SPF 30
Evening Routine:
Step 1:
Flawless Sulfate-Free Cleanser
Step 2:
Iconic Corrective-A Complex
Step 3:
Iconic Date Night
The Results:
See below for the before/after results. The picture on the left was taken during our initial consultation. The picture on the right was taken just short of the 7-week mark.
As you can see, I made good on my promise. I was even a week ahead of schedule. 😍
Patient K's results can be attributed to 2 main factors:
Proper guidance

Diligence
Based on my experience in the skincare industry, I knew my plan could work. But, I also knew that the results would be reliant on Patient K's ability to execute.
She stuck to the plan, did everything that was asked of her, and in the end, deservingly garnered the results she was after.
The moral of the story? 
If you're suffering with adult acne, please do hold on to hope. What worked for Patient K may or may not work for you, but with the right, personalized acne-fighting regimen, there is a way for you to win.
If you're looking for some guidance on your skincare regimen, let's connect!
For the remainder of the month, I'm offering free 1-on-1 consults with me. We'll discuss your skincare goals take a look at your current regimen to see how/where you can optimize.
To secure a time on my calendar, all you need to do is click on the link below!